Gotham News is undergoing a design upgrade.. some links may be temporarily broken
EXCLUSIVE INTERVIEW: Director Victor Salva Offers New Details About ROSEWOOD LANE & JEEPERS CREEPERS 3
The filmmaker shed some light on his upcoming thriller starring Rose McGowan as a radio show psychiatrist who is targeted by a young sociopath paperboy; Plus Salva reveals more on the delayed Jeepers Creepers horror franchise.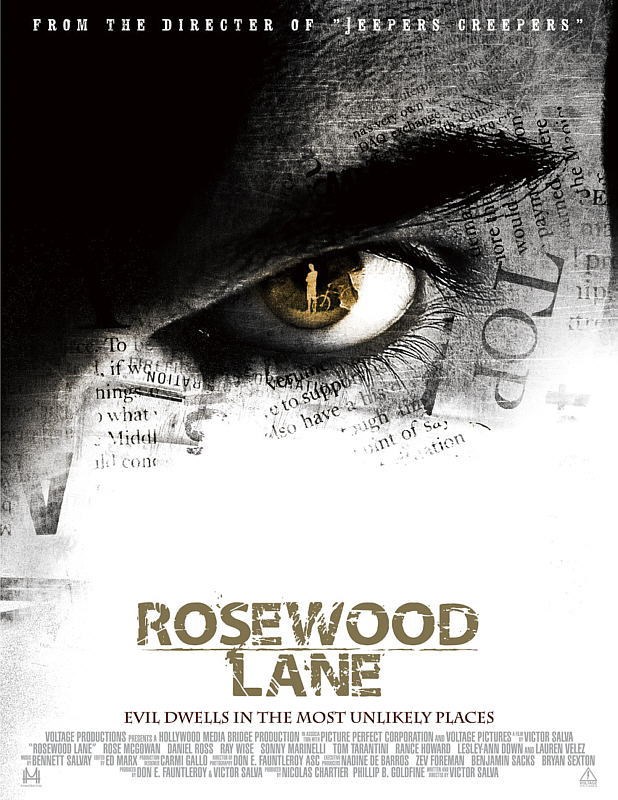 Victor Salva (Powder, Peaceful Warrior) is notorious for spawning one of the most acclaimed movie monsters of all time, the terrifying Creeper. Despite the third Jeepers Creepers flick still awaiting some funding, Salva is preparing to unleash a new horror movie called Rosewood Lane.
Doctor Sonny Blake (Rose McGowan) is a radio talk show psychiatrist who moves back to her childhood home after her alcoholic father dies. Once back in her old neighborhood she discovers the local paperboy is a frightening and cunning young sociopath that targeted her father and now targets her. When the boy starts calling her show and recites eerie nursery rhymes, an unnerving game of cat-and-mouse begins. When the game escalates, she suddenly finds herself in a terrifying all out war, one that forces her to redefine her ideas of good and evil, and has her fighting to stay alive.
When asked what sets his film apart from other 'creepy evil children' flicks as of late, Salva revealed that the tone of the movie is what he considers to be a "suburban nightmare". "I think the killer next-door stories are particularly frightening. Much more so than the monster movies I love," said Salva.
"Every scary movie needs its monster. And while Rosewood Lane isn't a monster movie, it is a thriller that revolves around a very scary, might I say, unnerving kid (Daniel Ross Owens) who is not the kid you ever want to cross paths with."
The director went on to tease the potential of the villain perhaps attaining some supernatural qualities as well revealing the psychotic Derek Barber as "a paperboy who may be a dangerous young sociopath, or possibly even a budding serial killer, or, as the story progresses, even something closer to what you might expect to find in a film in this genre."
With McGowan starring, I asked the filmmaker which scene he considered his favorite of the actress' and Salva went on to reveal that the moment he preferred came when McGowan visits her injured on-screen boyfriend after he was hospitalized from an attack by the evil paperboy. "She is so truthful and vulnerable in that scene, and reveals herself to be quite a good dramatic actress."
"She (McGowan) says, 'I can't go through my life believing in the Boogey Man.' I like this line because in a way, we all go through life believing in the Boogey Man. We have been taught to.
Salva revealed that McGowan's character struggles throughout the movie with coming to terms that pure evil may exist in spite of what she has learned as a psychiatrist. The director also hails Rosewood Lane as one of his most terrifying films yet.
In regards to another scary film that Salva has been chomping at the bit to finally get to, he reveals that Jeepers Creepers 3: Cathedral is still stuck waiting on finding a studio to fund the project. He did say that he was recently approached about turning the movie into a 3D project but turned the offer down in fear of having to dismantle the script.
"3D would absolutely devastate the script - since the added 2 to 3 million in production costs would strip the screenplay down to a point where it would be smaller in scale than the original Jeepers Creepers. And then even that money dried up. I would say the film has been on and off the front burner at least nine times during the last few years."
The director said that the third entry in his Creeper franchise has been ready to shoot for over seven years and wants the final movie to lead into a TV series that will explore the origins of the monster even further. "The third Jeepers film, and I can't tell you how it ends but it is a real show-stopper, I designed to kick off a thirteen episode season of a TV series, that explores The Creeper, his truck, and the massive 'Cathedral' like Creeper-lair they find in the third film."
"It has come close several times to going before cameras, and I hope someone sees the wisdom in shooting this, the third and final Creeper tale, I still can't tell you what the fate of this third film will be. According to IMBD we are already filming - I guess they started without any of us!"
Rosewood Lane is directed by Victor Salva (Jeepers Creepers) and stars Rose McGowan, Sonny Marinelli, Rance Howard, Daniel Ross Owens, Ray Wise and Lesley Ann-Down. It hits theaters in 2012.