EXCLUSIVE INTERVIEW: THE GREY Director Joe Carnahan on Casting, Brutal Filming & End Credits Scene; Comments on PREACHER & NEMESIS Adaptions
Published: January 18, 2012 - 2:23pm
The A-Team director shares details about the upcoming action-thriller in which he re-teams with actor Liam Neeson and producer Tony Scott. He also touches upon a few comic book based properties he's recently been linked to.



The Grey is not an easy movie to sit through. Although touted as a hardcore action film that pits Taken star Liam Neeson against a blood thirsty wolf in a visceral brawl to the death, it is actually a suspense-filled character piece that painfully deconstructs a band of oil drilling, plane crash survivors before your eyes. More than anyone, director Joe Carnahan knows that this film wouldn't be an easy sell to audiences; hence, the marketing materials that are drastically different from the final product. But if you actually give The Grey a chance to tell it's story, there's a very good chance you'll walk away not only satisfied with the film but find yourself talking about it long after.
"It's not a 'man vs wolf' story, if anything it's 'man vs nature' and the wolves are an extension of how unforgiving survival situations can be. The world is not a friendly place. The earth will survive, people won't. But it wouldn't make sense to only show footage of [Liam Neeson and the cast] fighting snow and hypothermia to get people talking about the film. We had a test screening a while back... one of the first... and some of the [audience members] got angry there wasn't a huge fight scene between Liam and the [main] wolf. But the moderator asked them 'If this was a movie you saw on a Friday, who would be talking about it Saturday? How about on Monday at work?' and every hand shot up. They were buzzing about it.. they liked it, just not in the way they'd expected to."
Personally, I can't say enough how great this film is; from the daunting score and wonderful performances to the dynamic camera work courtesy of cinematographer Masanobu Takayanagi. Carnahan is a huge fan of Takayanagi's previous film, Warrior, and knew we wanted to see what the man who brought heart-pumping camera work to a mixed martial arts film could do with the desolate landscape that fills almost every frame of The Grey, "I spoke with [Warrior director] Gavin O'Connor about possibly bringing Masa on board this project and he had nothing but fantastic things to say bout him. Masa's a machine. The guy will bring his all from 6 am to 5 am the next morning...he just doesn't know how to quit. When you're shooting a film for only 40 days and you're locked into a location with these harsh conditions you need a guy like that. He also handles the camera work himself which, when you're on a restricted budget, makes a huge difference. By the first day of shooting he made our entire crew 'his' guys, that's how quickly he earns your respect."
Casting for The Grey wasn't as easy as you'd think. The main cast, aside from Neeson, is comprised of Frank Grillo, Dermot Mulroney, Dallas Roberts, Joe Anderson, Nonso Anozie and James Badge Dale. These are the survivors whose story, and lives before the plane crash, you come to care about, sympathize and root for. Movie goers may scratch their collective heads wondering why other well known (and younger) actors weren't selected for this film; the opening weekend ticket sellers. Carnahan has no problem detailing his reasoning:
"I wanted men for this film. Guys who have lived lives of ups and down... you can see pain, longing, excitement and fear in their eyes. Hollywood has this obsession with youth [but] I didn't want a bunch of shirtless boys with their, you know, blank stares...it wouldn't have worked. I needed real men. And the guys, when they talk about their lives, and why they have to survive, you believe them. I also didn't want actors that you saw and said, 'Hey, I know that guy from wherever.' I had a quote-unquote Dermot Mulroney fan say she didn't even know it was him until he took his glasses off. I've been friends with Frank [Grillo] a long time, and as great as he was in Warrior I really think he gives the performance of his career here.
"A lot of what you see about their characters is true to life. Pictures of their families, stories they tell of their kids, that's all real. It's hard to explain but it added so much emotion and authenticity to their scenes. Liam didn't try to hide his Irish accent at all, and it gave this natural texture to his role." Neeson's role in the film -- a man stuck on a frigid mountain haunted by dreams of his wife -- appears to play close to the chest when taking into account the tragic passing of his wife Natasha Richardson from a 2009 skiing accident, but Carnahan said there wasn't any hesitation on his part to be involved. "He's a great guy and amazingly alive in front of the camera, but he's reserved too. Like everyone else I'm sure he drew on his experiences.. good and bad.. to show the pain and ferocity the film required."
They may not be the 'big bad' in the film but the wolves teased in every trailer and TV spot for The Grey play a central role throughout. The territorial pack animals have one definitive objective: scare away or kill anything that comes too close to their den. Unfortunately for our makeshift group of survivalists, their plane goes down right in the wolves' proverbial back yard. These animals came courtesy of famed creature designer and makeup artist Greg Nicotero (The Walking Dead).
"We used a combination of animatronics and CG enhancement over real footage to create the wolves. Greg was our effects supervisor, he created these fantastic pieces that are really intricate. For some shots we had to use a wolf head 'helmet' one of the guys would wear for close ups [laughs]. The majority of the digital effects are for their eyes.. shifting, blinking... we wanted to show how alert and intelligent they are with their surroundings. It's as realistic as we could make it and I think it's pretty terrifying. You won't have any shirt-ripping guys turning into CGI wolves here."
The Grey comes out in a little less than two weeks (January 27th), and there's still a lot to learn about how and why this film was made. I've attempted to keep this article as free of spoilers as possible; after the film is released in theaters I'll publish a follow up piece that goes into more detail about several scenes, including what I consider one of the most well executed endings I've ever seen. But one thing audience members need to get into their heads now is to stay after the credits, where director Carnahan decided to include a bit of artistic whimsy.
"I had a different version of the ending that we shot that's this big blowout with Liam and the wolf... maybe I'll put in out as a deleted scene. I didn't want to hand feed anything to the audience, I want to make them think about the film and extrapolate their own conclusion. But there's a scene that plays after the credits that's really fun. I did that for pure artistic expression. [People] that we've shown it to cheered."
After five years of development, The Grey is completed, and Carnahan is already busy looking at a variety of other projects to tackle. One of those he's been recently linked to is a live-action adaptation of the dark and edgy comic series Preacher by Garth Ennis and Steve Dillon. The story follows down-and-out Texas preacher Jesse Custer, who is accidentally possessed by a half angel/half demon with enough power to rival that of God. Custer is driven by a strong sense of right and wrong and journeys across the United States attempting to find answers from God Himself. As much of a fan as he is of the long standing property, Carnahan doesn't see Preacher fairing well on the big screen as much as it would as a televised mini-series.
"My personal opinion having read the script is that they tried to jam too much into one film. A lot of it was compressed in a way that didn't feel natural. I honestly think they should do it on HBO as a mini-series. You know, do it right, and I say that as a big fan of the books. I don't think you can have that scope in a two hour film."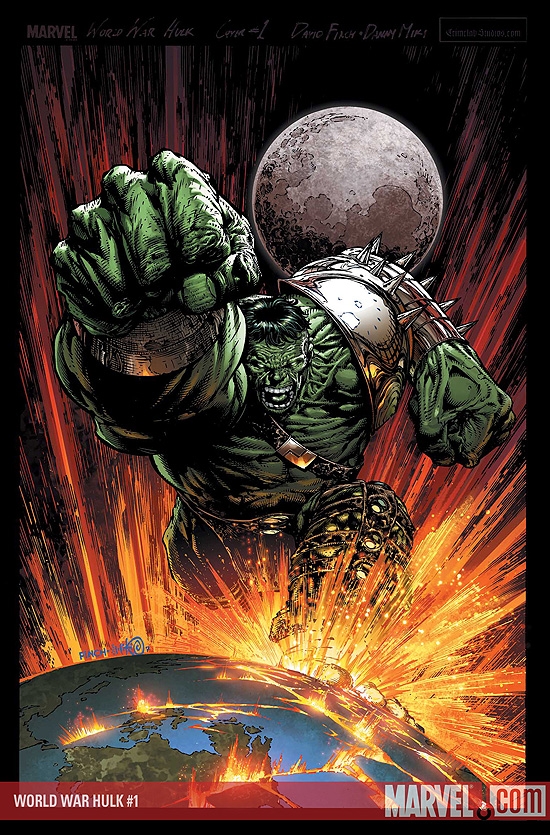 Another comic property that may soon make it onto the silver screen in an adaptation of Mark Millar's Nemesis, a new series that turns a Batman-like character (young, billionaire, genius, physically fit) into the world's most dangerous supervillain. The comic is filled with many shock-and-awe moments of brutality that fans feel would work great in a feature film. Carnahan has been in and out of contention to direct Nemesis for Tony Scott's Scott Free Productions, but there's still no definitive answer whether he will move forward or pass on it: "Mark and I have became fast friends over this whole thing. I love Nemesis, I love the idea of this anti-Bruce Wayne who's just a son of a bitch. He's not a philanthropist, he's just out to be an asshole. Whether I do it for Tony [Scott] or someone else does I think it's ripe for an adaptation."
Carnahan may have just gotten off a film with a tight budget, but if you gave him free reign to adapt any project he has no qualms about going big. Hulk-sized, if you will. "I would love to make a World War Hulk film.. you know that comic where Hulk takes on Charles Xavier, Tony Stark and all of Earth's heroes and just fucks them up? That would be amazing to do! Maybe they'll let me completely destroy Manhattan [laughs]. I think the character itself is so full of depth...I'm more of a fan of Ang Lee's Hulk [movie] because it really captured that Jekyll and Hyde feel. I love seeing Hulk be docile and calm when he's alone but go totally ballistic when anyone messes with him. If I could do it for $20 million, even better."


The Grey is directed by Joe Carnahan and stars Liam Neeson (Taken, Unknown) Dallas Roberts (A Home At The End Of The World), James Badge Dale (The Pacific, Rubicon), Dermot Mulroney (The Wedding Date, Undertow), Frank Grillo (Edge of Darkness), Nonso Anozie (RockNRolla) and Joe Anderson (The Crazies, Across The Universe). Ridley and Tony Scott are producing with a targeted release date of January 27th, 2012.
In The Grey, Liam Neeson leads an unruly group of oil-rig roughnecks when their plane crashes into the remote Alaskan wilderness. Battling mortal injuries and merciless weather, the survivors have only a few days to escape the icy elements and a vicious pack of rogue wolves on the hunt before their time runs out.